Have you turn off your laptop LCD monitor for power saving and extending the LCD monitor life span when you are not using it? Most of the LCD does not come with a button to turn off the LCD monitor. Therefore, you will need a utility to turn it off when the laptop is not in use. Here is another tiny program which called as MonPwr. With this utility, the users just need to click a button to turn off the monitor without to wait for a predefined interval. The program has been designed to turn on the monitor when the users click the mouse or press the enter key/spacebar.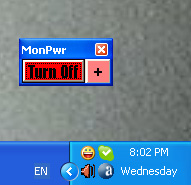 The MonPwr includes the following features:
Very Small interface – Just a small window with two buttons, one to turn off monitor and one to set tool to launch at startup.
Very Small File Size – Compressed size is about 8K and working program is about 32K.
Sticks to last moved spot – Allow the users to put it anywhere at desktop.
Ignores small mouse jerks. (Useful if the users accidentally jerk their mouse).
Monitor does not wake up until the mouse is clicked or the ENTER key or SPACEBAR is hit.
Does not effect any running processes on the users laptop when turn off or turn on the monitor.
Easy to use and very meager on resource consumption.
MonPwr works well with most of Windows platform for PC and Laptop such as Windows XP, Windows Vista and Windows 7. It is available for free download from here. This utility does not require any installation, the user's just need to double click on monpwr.exe file to execute it. To turn off the monitor, the users just need to click on the "Turn Off" button and press the enter key/spacebar or click to turn on the monitor.