Some music lovers from time to time might want to extract or convert some audio files from MP4 or MPEG-4 digital format to MP3, a more portable format to play on their MP3 player. The conversion can be quite fast and straightforward with a handy conversion tool or a format converter program. The free format converter program, MP4 To MP3 Converter, has released the latest MP4 To MP3 Converter 3.0 for users.

MP4 To MP3 Converter is a free Windows conversion utility that can convert MP4 format to MP3 audio format easily. This converter application converts AVI, MPG, FLV, WMV, MOV and other video formats to MP3, WMA, WAV, OGG, and FLAC. This useful and free converter delivers highly accurate conversion and outstanding performance. It allows users to have full control over the output and can set output format, bitrate, rate (Hz), audio channel (mono/stereo) and folder to save the output. Besides single files, the program can convert more than one file in the batch mode. Regardless of the size and number of files in the batch, MP4 To MP3 Converter does accurate and rapid conversion between formats. MP4 To MP3 Converter has undergone several in-house tests and these revealed that the software converts 170% faster than any other similar program.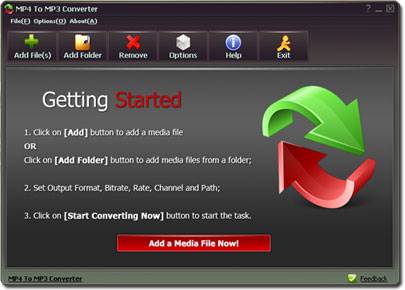 Screenshot
Download MP4 To MP3 Converter: mp4tomp3.exe.