Most of the users will usually delete the contents of the phone when the phone is out of space although the information is critical to them. Actually, they can manage the contents of the phone by transfer it to PC before delete them. Here is a free application that can allow the users to manage their phone contacts, SMS and etc, known as Phone Manager. The Phone Manager has been designed for users to easily manage their phone contents.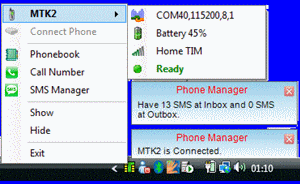 Phone Manager includes the following features:
Works in any GSM phone with chip.
100% with AT commands.
Accepts and maintains data from several cell isolation.
Custom configuration for each cell.
Supports synchronization of Windows Live contacts and Google contacts.
SMS Manager.
Simultaneous transmission of SMS (text format).
Delivery reports of SMS.
Monitoring battery, signal quality, phonebook in telephone  and  chip, SMS tracking and incoming call.
Synchronization date and time of the PC.
Backup and restore the phonebook.
Alarm management.
Call console.
Registration of carriers.
Installs in tray icon.
The Phone Manager is available as a free download. It supports Windows XP or higher and only works with GSM phones.