PNotes is one of the free virtual desktop notes for Windows which allows user to create notes that stick on desktop. The PNotes has been featured with several options for users to customize the notes such as transparency, background colors, skinless, fonts and etc.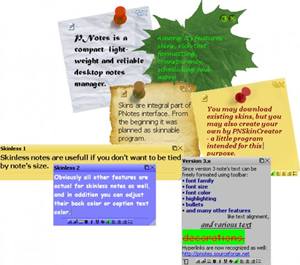 PNotes includes the following features:
Skins – able to change skin or skinless.
Transparency – set notes transparency level from opaque to fully transparent.
Scheduling – use one of three available schedule types to be reminded about significant events.
Formatting – format and design each note by using all the advantages of rich text formatting.
Groups – divide notes into groups by create new groups and subgroups, control all by mouse click or drag-and-drop.
Docking – dock the notes to any side of the screen, forcing them always to be straightened and look like a panel.
Searching – search for (or replace) text fragments in all notes, including hidden or in each separate note.
Favorites – access intensively used notes by a single click.
Custom fonts – use custom fonts which are not installed on current machine.
E-mailing as attachment – send note via e-mail as attachment to any target with PNotes running and open attached note on target machine.
Recycle bin – able to decide how the users want to delete the unneeded note: completely or send it to Recycle Bin with ability to restore it later.
Unicode support – PNotes is fully Unicode supported and translated into many languages.
Portability – PNotes does not require installation, it can be started from any drive (fixed or flash) and leaves no traces on host computer after finishing.
Download PNotes.