ProtectStar Data Shredder is a user-friendly application which has been designed to securely delete all the important files or data in such a way that precludes reconstruction, even for experts and government agencies. The application has been featured with intuitive navigation and helpful wizards for users to completely delete their data from hard drives or external data storage devices permanently.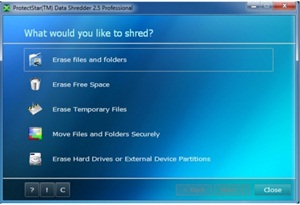 Key features of the ProtectStar Data Shredder Professional includes:
Secure data deletion based on government approved and military data security standards up to the confidential, secret and top secret security standard levels.
Deletes confidential data from hard drives, solid state drive, memory sticks, usb sticks, flash drives, CompactFlash, Secure Digital (SD) card, memory cards, MMC, xD, MicroDrive and etc.
Detailed deletion log provides evidence of deletion.
Integration of the powerful ProtectStar Secure Deletion Algorithm allows for fail-safe data security.
Secure deletion of free storage space as well as the Windows recycling bin, Internet cache, cookies, temporary system folders and etc.
Allows for secure cutting and pasting of files and directories.
Fully integrated into the Windows Explorer context menu.
System partitions and individual system drives can be deleted securely in offline mode without a boot medium.
Compatible with Solid State Drives (SSD).
Supports FAT, FAT32 and NTFS.
Supports IDE/ATA, SCSI, USB, SATA, SAS, RAID and Firewire.
As part of ProtectStar and PC Advisor promotion, ProtectStar Data Shredder Professional (normally cost $39.90) is now been giving away for free. Here's how to get the full version of ProtectStar Data Shredder 2.5 for free:
Download ProtectStar Data Shredder 2.5 named setup-pro.msi from download.com.
Activate the program with serial key "TLTJ-FAAC-FQHA-TEYD-F5J2".