SnapShot is a lightweight, yet powerful, full-featured screen capture tool that allows the users to grab desktop, windows or any part of the screen and save it as image format such as JPG or PNG or send it directly to the users favorite editor for further editing. Apart of that, it also allows the users to send the screen shot as attachment to email or upload via FTP.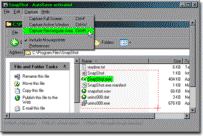 Other features of SnapShot include global hotkeys, automatically save screen captures, auto filename generated and support external editors.
Key features of SnapShot:
Capture screen, window, rectangular area.
Options to specify output destination (file, editor, clipboard, printer, e-mail).
Global hotkeys to instantly activate screen capturing.
Save in BMP, GIF, JPEG, PCX, PNG, PSD, and TIFF formats.
Run minimized or minimize to System Tray area.
Include mouse pointer and play sound on capture.
Supports multiple monitors and Dualview.
Automatically save screen captures and filename generation.
Send screen captures to image editing program.
Send screen captures by build-in e-mail (supports Exchange Server).
Upload screen captures by build-in FTP engine.
Currently, it is available for free download.