If you are looking for a solution that can protect your private files from being access by unauthorized users, then you may try out this tiny utility. Named as Secret Disk, it allows the users to create a separate partition on their PC which may be locked and unlocked with a password.
The separate partition will be invisible in the Windows system when locked with password, and visible when unlocked. The utility has been enhanced for automatically locked the partition on the next system boot when the power failure.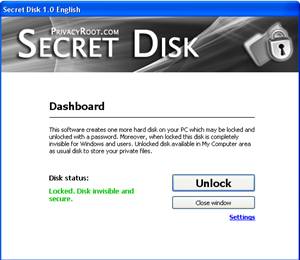 Secret Disk includes the following features:
Separate disk for your private files – this tool will create separate disk for your private files.
Access with a password – can access Secret Disk with a password.
Locking – when locking secret disk disappears and stays invisible with all contents.
One second protection – when you need protection Secret Disk disappears within one second with all content, no metter how many files you have on the disk.
Power failure – in case of power (or Windows) failure Secret Disk will be automatically locked.
Automatic locking – Secret Disk can be automatically locked if you away from your PC (screensaver is running) or when you press emergency F8 button.
No hardware – no additional hardware required! Space for secret disk will be taken from your system disk.
The Secret Disk is compatible with Windows XP and Vista, and is available as a free download for immediate use.