SwfModify is a tiny program which allows the users to edit and rebuild flash file regardless whether they are a little initiated or totally ignorant in flash editing. The program has been designed with an intuitive user friendly interface for easy to use. The program allows the users to replace virtual item in their .swf file and save it to the new flash file.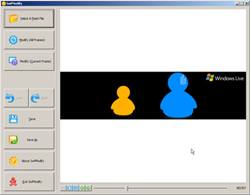 SwfModify includes the following features:
Able to view and modify SWF files.
Able to delete item from flash movie.
Replace item with picture and text.
Replace item with other flash item.
Export shape, movie clip and sound resource.
SwfModify works well with most of the Windows platform including Windows 2000, Windows XP, Windows Vista and Window 7. This flash editing tool is available as a free download from here. To start the flash editing, the users just need to open their flash file and edit current frame or all frames. One completed, the users can view their edited flash in the player before save it to the new flash file.