Tinker is one of the few that have been released by Microsoft. Tinker is a puzzle game which pushes the boundaries of robot deduction that guide the robot through switches and contraptions to reach the exit. Tinker features with captivating visuals, an original music score and 60 levels that range from facile to the extremely challenging. Besides, the game is also built-in with Windows Live that allows the player to chat with their friends from within the game.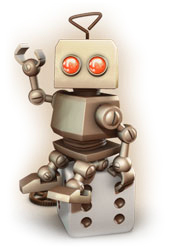 Tinker includes the following key features:
Guide your small robot through 60 different levels of inventive mechanisms, switches, lasers, teleporters and etc.
Earn Tinker achievements only available through LIVE.
Enjoy 3D graphics that enhance the majestic clockwork world.
Tinker is now available as a free download at the . In order to get the free Tinker game, user has to have a Windows Live Account to sign up to XBox Live Gamertag, and install the Games for Windows live client, as detailed in steps below:
Create a Gamertag at . A Windows Live account is required to associate with the Gamertag.
Download and install the Games for Windows – LIVE Software client:
Launch the Games for Windows -LIVE software.
Sign in with the Gamertag (Windows Live ID) the software.
Search for the Tinker game, which is available for free. A US address is required though.
The game is not only available for Windows 7 users but also for Windows XP and Windows Vista users.