TODAYshow.com and Zumobi have teamed up to release a new application for iPhone, called as TODAY application. With this application, the users can enjoy the news, entertainment and lifestyle content, right from their iPhone.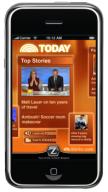 This application is a first-of-its-kind for the cialis canadian pharmacy morning news program category and represents a compelling new way for TODAY viewers to enjoy content from America's number-one morning program for 13 years running. The TODAY application provides latest videos, top-stories and photos as well as features on entertainment, health, food and wine, relationships and fashion segments including the interviews with newsmakers.
"This fun new app lets millions of consumers stay connected to the lifestyle content they love, even when they're on the go," said by Catherine Captain, general manager of TODAYshow.com. "The mobile app also presents another way for marketers to reach our highly engaged audience on another platform."
"For years, the Today Show has been the undisputed leader in morning television, drawing an incredible loyal audience of TV viewers' day in and day out," adds Ken Willner, CEO of Zumobi. "We are absolutely delighted to bring both the high-quality of TODAY's programming and the power of the Today Show brand to The Zumobi Network."
The TODAY application for the iPhone is now available at App Store for free.