Good news for second-generation iPod touch owners! You can now make free calls on your beloved iPod touch, thanks to free mobile VoIP (Voice over Internet Protocol) application – Truphone for iPod touch, which enables the users to make free calls to other Truphone users (whether they're using Truphone on their iPod Touch, iPhone or Nokia mobile devices) or to users of Google Talk instant messaging service from any Wi-Fi zones, carrying calls over the Internet to its destination.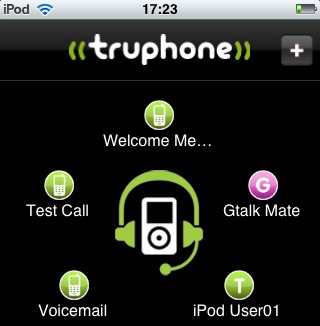 According to Truphone, the Truphone for iPod touch is simple to use, all you need is a headphone with mic or mic adapter, as well as wireless internet connection to start making free phone calls.
"There are a slew of new features we're rolling out for the iPod Touch that will let users call landlines, Skype users or send instant messages. "We're talking weeks, not months, before these go live," said Geraldine Wilson, CEO of Truphone. "We've decided to focus on devices that are wi-fi enabled and have an apps-store. For the consumer, there has to be an easy way of downloading an application."
The cool Truphone for iPod touch VoIP application is available as a free download at Apple's App Store.