Are you looking for a simple burning software which like Windows Explorer-like interface? UsefulUtils Disc Studio is a free disc burning software that can burn data CD, audio, CD and DVD videos. The UsefulUtils Disc Studio has been designed to support most popular disc image formats including iso, img, mdf and nrg. Beside that, it also includes features like On-The-Fly burning, PerformOPC, Over-burning, test burning, buffer underrun protection, various burning options and bootable discs.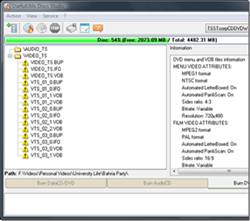 UsefulUtils Disc Studio includes the following features:
Supports SCSI, ATAPI, Parallel port, USB (1.1 and 2.0) and FireWire (IEEE 1394) devices.
Supports ASPI, SPTI and SPTD interfaces.
Able to burn on any discs.
Supports "On-The-Fly" burning, PerformOPC, OverBurning (in UUDS – HyperBurning), test burning and BUP (Buffer Underrun Protection).
Bootable discs burning.
Multisessional discs burning with a choice of any imported session.
Burning of multiple disc copies.
Verifing burning information.
Supports MP3,WMA, ASF, OGG, FLAC (if codes installed) and WAV formats.
Supports ISO, UDF, IMG, BIN, MDF, XMF, NRG, BWI, B5I, CDI, PDI image formats
The UsefulUtils Disc Studio is a lightweight program which only around 500 Kilobyte download size. This free tool supports English and Russian languages, and works on all 32-bit versions of Windows operating systems including Windows XP, Windows Vista and Windows 7.