You have received some interesting digital videos but can't open or run them because the format is incompatible with the media player. This is always a painful experience especially if you desperately want to get your hands on the digital videos. Undoubtedly there are plenty of choices to get a conversion application to convert the digital video format, but free, user-friendly, and feature-rich converters that support multiple formats are quite limited. Freemake, a free video converter for Windows only is an alternative to the paid one which offers a handful of useful tools.

Unlike other free video converters, Freemake offers users more comprehensive features. Freemake can do the following: convert videos to the most popular video formats such as AVI, WMV, MP4, 3GP, DVD, MP3; rip DVD; burn files to DVD; automatically upload selected video files to Youtube; create DVD photo slideshows with background music; and convert video/audio files that support various multimedia devices such as iPod, iPhone, iPad, PSP, Xbox, Blackberry, etc. Besides, Freemake features the following editing functions: cut, rotate, flip, and join several videos into one file.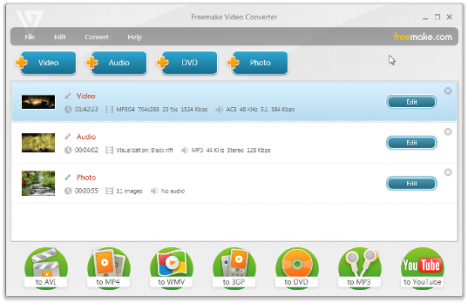 Freemake comes with a simple and clean interface. Users can simply drag and drop files to convert or perform other operations. Freemake is a free download for Windows only and requires the latest Microsoft Windows .NET to run. Overall this video format conversion program is user-friendly, simple and powerful. Users can download Freemake via the link here.