Adding watermark or logo to the images is one of the common ways to protect your images or pictures from being easily distributed around or copied by others. Here is a watermark image program which called as Watermark Image Software. The watermark image program allows the users to add digital watermark to their favorite images, photos and pictures in a batch.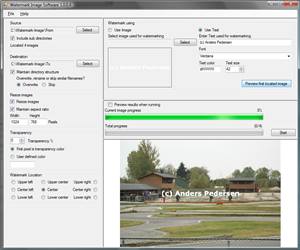 The program is featured with the option for users to resize the images before the digital watermark is added. The users can insert any text and image watermarks into the pictures.
Watermark Image Software includes the following features:
Able to Watermark digital images, pictures and photos.
Resize images while watermarking the image.
Supports multi threaded.
Maintain directory structure in destination directory or combine all watermarked images in one directory.
Skip or overwrite existing watermarked images in destination directory.
Automatically check for new version of watermark image.
It is available as a free download from here. This tiny program does not require any installation, therefore the user's just need to extract ZIP archive to any folder and double click on WatermarkImage.exe to execute it.