One simple yet effective way to fight against malicious programs is to keep an eye on the programs running on the computer and respond if something unusual or unexpected happens. Of course this is quite impractical as nobody will spend time to manually monitor the system. Hence, the alternative is to get a watchdog program to do the job and alert you when some funny action take place, e.g. a program tries to install or uninstall something, changes to registry files, changes to the default home page, etc.

Users who have tried WinPatrol from BillP Studios would agree it is a pretty good system watchdog which can do the guard job and keep track of programs running on the PC to prevent any malware program attacks. In fact besides WinPatrol, there is another standalone portable version of WinPatrol from BillP Studios which can do the same job, namely WinPatrolToGo.
WinPatrolToGo is a single executable file designed to run from a portable device such as a USB flash drive, portable hard disc, etc. The advantages of WinPatrolToGo are it is easier to be carried around and run without leaving any leftover files or registry entries on the computer. This program is free and fully functional. A summary of the features include:
Remove Un-Wanted Auto Start crapware.
Disable Un-Needed Automatic Windows Services
Remove Annoying Toolbars and BHO's
Create Reports that provide a snapshot of potential problems
Disable ActiveX Controls
WinPatrolToGo can be downloaded via the link here. Users can directly download the application to their USB flash drive. The file size is less than 600k and it supports all Windows OS version including Windows 7.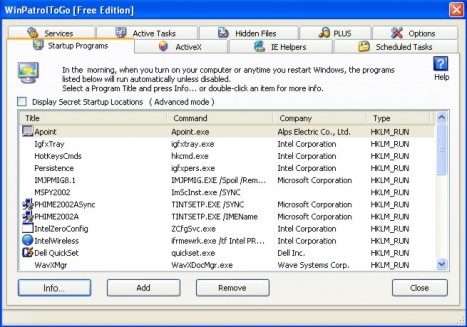 Screen Shot