Free YouTube Utility is a powerful, user friendly and all-in-one Windows application which allows movie enthusiasts to download video content such as movie clips, TV clips, music videos, short original videos, etc from the famous video sharing website, YouTube. Free YouTube Utility features an intuitive interface that users can easily understand and control smoothly. All the features are clearly shown on the single interface: Search tab, Download tab, Convert tab, File Manager/Play List tab, and Settings tab.

Users can use the search feature to search for relevant YouTube video content by typing in the keywords in the Search field. The search result will be displayed on the application's interface itself without additional effort to open the web browser again.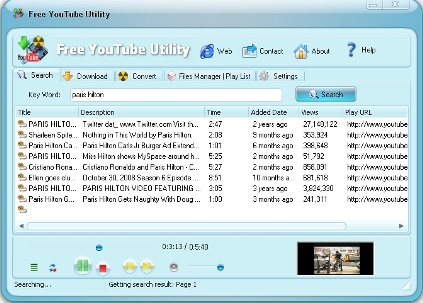 Search for relevant video
Once users have identified the video content they want to download, they can just double click to it to initiate the downloading process. Users can click the Download tab to check the download status. Users can select more than one video clip to download.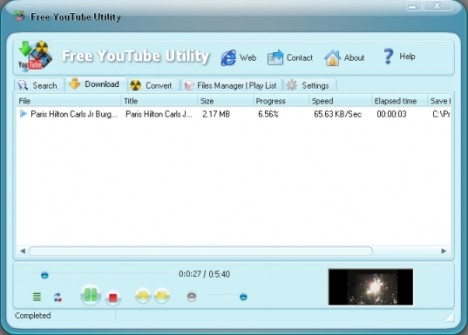 Download Video
Alternately, users who have identified some interesting video clips from the web browser also can drag the url to a small icon which appears on the screen when the Free YouTube Utility is running to initiate the download.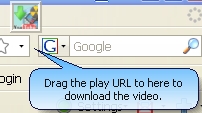 Free YouTube Utility offers a shortcut icon where users can drag the url to it for quick download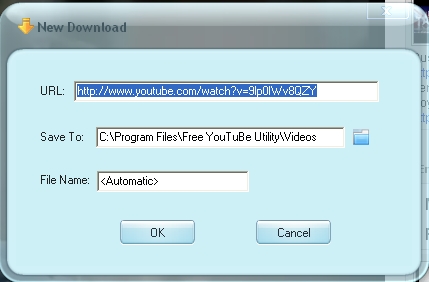 A dialog box will thence pop up for users to confirm the download as well as set the save path and filename
Users can click onto the File Manager/Play List tab to view the files that have been downloaded.

File Manager displays downloaded files.
Users can right click any downloaded file display at the File Manager tab to convert the media format.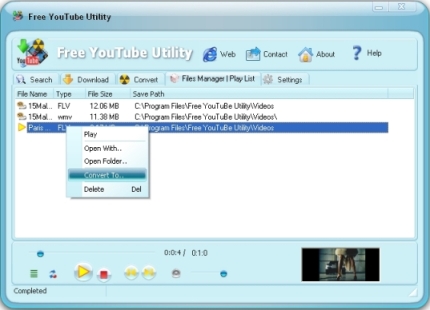 Right Click to open shortcut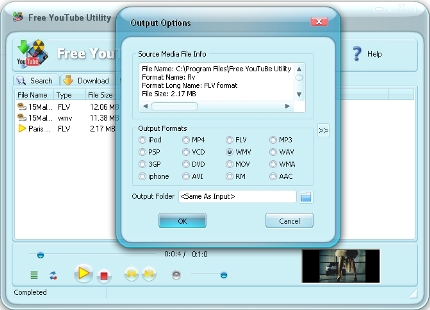 Users can convert their downloaded video into various formats: iPod, PSP, 3GP, iPhone, MP4, VCD, DVD, AVI, FLV, WMV, MOV, RM, MP3, WAV, WMA and AAC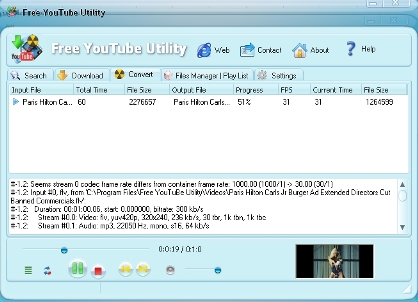 Users can monitor the conversion process at Convert tab
Users can do some simple customization at the Settings tab, e.g. auto play when downloading, playing sounds when downloading, etc.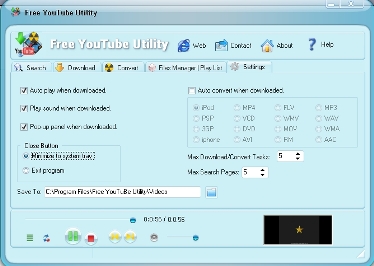 Customize the settings
Generally Free YouTube Utility offers users a one-step solution to download and convert video clips. It saves a lot of time and effort when users need to download multiple videos in one go. The program will process the downloading and users can easily monitor the process. YouTube enthusiasts can download the latest version of this free application Free YouTube Utility 1.42 via the link here. This program supports Windows OS only.