There are multiple ways of sharing files but here is one of the simplest ways that make the file sharing process easier than usual. Named as Zapr, it allows users to share any format of files by creating URL links that pointed to any files or folders located in your local PC securely for files sharing in real time.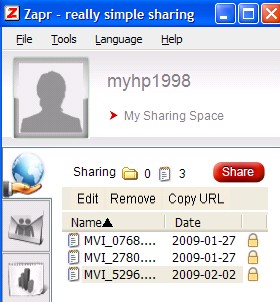 What users need to do is to sign up for a free account here by providing username, email address and password. Then, go and download the software utility here and install it followed by logging on with the registered name and password and you are ready to share. Good thing about this is, the recipients do not need to install similar application while still able to receive the files by just clicking on the links. However, since the files reside in local drive, users will need to re-generate the link once those files are removed from the original folders. To ensure privacy, users can set own password so that the shared files can only be received and seen by targeted recipients.
Only one drawback, since there is no way for users to browse multiple files and generate links simultaneously, users may need to do them individually when they want to share huge files in bulk. Anyway, it is quite useful especially for those that would like to share huge files in simpler way for easy retrieval by third party.