Google Translate is a free statistical machine translation service from Google, which has been designed to translate a section of text, document or web page into another language. To provide this free translation service for iPhone users, Google team has launched a Google Translate app for iPhone. The new Google Translate app for iPhone has been featured with similar features of the web app. The overall translation experience has been improved with several new signification features.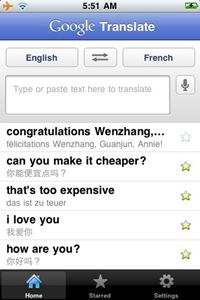 Major features of the Google Translate app for iPhone includes:
Supports up to 57 languages of text translation.
Able to translate by speaking the text instead of typing it (voice input for 15 languages).
Access translation history even when offline.
Listen to translations spoken aloud (23 languages).
Display translations in full screen mode to make it easier for others nearby to read.
Star favorite translations for quick access even when offline.
Spell out the translation of non-Latin script languages (e.g. Chinese, Japanese and etc) in Latin characters to read it phonetically (e.g. Pinyin, Romaji and etc).
View additional dictionary results for single words or short phrases.
Those iPhone, iPod touch or iPad users who interested can download a free copy of Google Translate app for their devices at App Store. The Google Translate app works well in iPhone, iPod touch and iPad with iOS 3.0 or above.