If the free web-based encyclopedia has always been your favorite site when you search for information or data, then the free software extension to your Firefox browser, Googlepedia, could be something that can make the searching process more efficient. With Googlepedia add-on installed to your Firefox browser, when users make some searches via the Google search engine, users will see the main page on the browser split into two sides. The left side will show users the regular web results, whereas the right side will present users with relevant Wikipedia articles based on Google search engine's top results.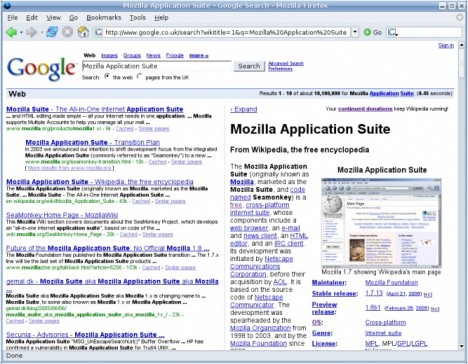 With Googlepedia, users can kill two birds with one stone. Users can get the search results from both Google and Wikipedia at the same time. Of course users can freely expand each side to its full sized version if they want to. The program also allows users to disable Googlepedia if they don't require search results from Wikipedia.
Googlepedia supports Windows NT, Windows 98, Macintosh, Linux, Windows 2000, Windows Me, Windows XP, Windows Vista and Windows 7. It works well on Mozilla Firefox 1.5 and above. The latest released version can also be used with Google Chrome browser. A summary of the features are as follows:
Turns internal Wikipedia links into Google search links
Uses Google's I'm Feeling Lucky(tm) feature to find relevant articles
Links images directly to their full-sized versions
Removes Google AdWords
Can be expanded to take the full width of the page
Uses your local language Wikipedia based on the Google language
Hide button to disable Googlepedia
Firefox 3 support
Interface translated into 7 languages – Chinese, German, Japanese, Polish, Czech, Dutch and Portuguese.
Download link: