CrystalDiskInfo is a free hard disk monitoring tool to find possible hard disk problems and failure. This HDD health monitoring utility will monitor your hard disk status, disk temperature and S.M.A.R.T value. S.M.A.R.T or "Self-Monitoring, Analysis, and Reporting Technology" is a monitoring system for computer hard disks to detect and report on various indicators of reliability such as read error rate, spin-up time, start/stop count, relocated sectors count, seek error rate, power-on hours, spin retry count, recalibration retries, device power cycle count, power-off retract count, load/unload cycle count, etc, in the hope of anticipating failures.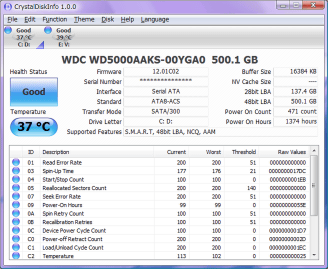 Like a human being, when the hard disk life span gets shorter and shorter and the usage capacity is increased, the threat of the hard disk breaking down will also get higher and higher. Constantly monitoring your hard disk performance and health status is necessary to ensure your stored data does not get damaged or lost in the event of hard disk failure. Hence, getting a hard disk doctor such as CrystalDiskInfo may be a good idea.
Download the latest CrystalDiskInfo 1.0.18 which supports Windows Vista from Crystal Dew World via the link here.