Apple's iPhone is famous for its dual-finger scrolling feature that able to distinguish itself from the rest of its competitors. Current WMD (Windows mobile Device) users may dream to have some of these great features installed in its device. Now there is a way to make your Windows Mobile Device looks like Apple's iPhone when scrolling through the contact list, even without the need to spend any cent.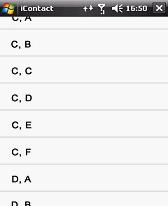 Once the application is installed, the user can slide down the contact lists that stored in mobile device in iPhone's scrolling style. By tapping on the screen, user can drag the contact list menu, moving in up or down direction and the list will follow in scrollable way. As compared to version 0.2, version 0.3 features a WM2005 and WM2006 support as well as landscape fix that were not available in earlier version.
Some do comment that the scrolling is slow especially when there is a huge contact list to scroll through. Anyway, it works great to me! I have tried this in my O2 Zinc and it gives me a total fresh look as well as practical use. There is no harm to try since it is downloadable free from here.