If you wonder how you can verify the full functionality of your Intel based platform, the recently released utility from Intel Corp could be your right choice. Named as Intel Processor Diagnostic Tool, the utility is aimed to diagnose and confirm that there isn't any issue on your Intel processor by putting the device under different level of stress conditions.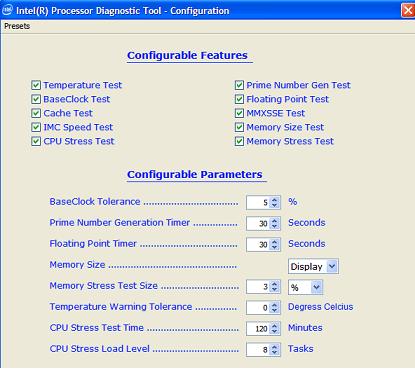 Basically there are three configurations namely Quick Test, Full Functional and Burn-in Test that users can define before running the tests. With each of them are self-explanatory and being pre-defined to test certain functions based on own usage, just select any of them will give different level of stress tests targeted on CPU itself. For instances, users can choose the highest level of burn-in stress test with all temperature, BaseClock, Cache, IMC, CPU, Floating Point, MMXSSE and even memory stress tests selected with configurable size and duration, or a much simpler quick tests for fast validation.
Currently the utility is download-able at Intel website and at around 6MB, it is compatible to all the 32-bit Windows Operating Systems such as 7, Vista, XP, Server 2003/2008 and many more. To get a more accurate result, the giant chipmaker does recommend all users to disable any power management features such as Intel SpeedStep technology so that the CPU can run at its full clock speed without being throttled unnecessarily in compromising to power or heat dissipation.