KLS Mail Backup is an email backup tool that offers simple and effective backup and restore solution for email clients and Internet browser. The email backup tool has been included backup and restoration functionality to support on various popular email applications including Windows Mail, Outlook Express, Mozilla Thunderbird and Firefox profile files.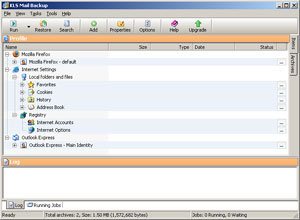 The tool backup has been designed with intuitive user interface that allows the users to perform restore and backup process easily. To backup the email profiles, the users just need to select the email applications and email profiles that they want to backup and run the job. Once backup, it will automatically zip the backup files. The users can restore back their backup files when necessary either from local drive or external drive.
KLS Mail Backup includes the following features:
Supports Windows Mail profile, Windows Contacts, Windows Live Mail profile, Windows Live Contacts, Windows Live Messenger Files, Outlook Express profiles, Windows Address Book, Internet Explorer Favorites and Internet Accounts, Mozilla, Seamonkey, Thunderbird, Firefox profiles, Postbox profiles, Opera profiles, The Bat! profiles and IncrediMail profiles.
Able backup to local and network drives.
Standard ZIP compression.
Full and incremental backup mode.
Flexible restore options.
KLS Mail is compatible with most of the Windows Operating Systems including Windows 2000, Windows XP, Windows Vista and Windows 7. It is available as a freeware for personal use only.