If you are one of those who always performs installing and uninstalling of Windows applications then you may notice that most of the applications which are being uninstalled with "Windows Add or Remove Programs" still leave traces behind in registry or elsewhere. Therefore, you may look for third party Windows uninstaller to solve the above issues. KUninstall is a tiny portable application that able to uninstall Windows applications with scans for leftover registry keys, files and folders.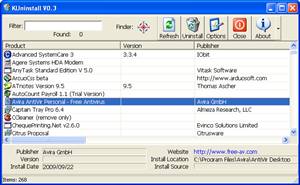 KUninstaller allows the users to sort the programs by any columns and provide detailed information. Apart of that, it is featured with Finder function that show a new dialog with options to explore, uninstall, close window and kill process when the users drag the Finder icon and drop it on any programs.
The KUninstaller includes the following features:
Search items with key words.
Supports Unicode.
Show more detail information.
Locate key in Registry.
Much faster than "Windows Add or Remove Programs".
Drag and drop file name or shortcut of installed program.
Use Finder to uninstall running program or desktop icons, quick launch toolbar, taskbar or system tray.
Scan for leftover registry keys, files and folders to delete.
Since it is portable, the users can simply download and unzip it to any folder. This application supports both Windows XP and 2000.