CDBurnerXP is a complete and easy to use burning application that able to burn CDs, DVDs, Blu-Ray and HD-DVDs. It also includes the feature to burn and create ISOs, as well as a multilanguage interface. This application is offer free to everyone includes companies and its does not includes adware or similar malicious components.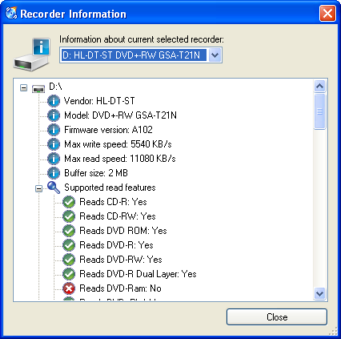 The summary of CDBurnerXP key features:
Copy audio and data CD's on the fly.
Saves and burns ISO files-  Convert .BIN and .NRG images to ISO format. 
Burn Audio CDs- with or without gaps. Supports MP3,WAV, OGG, WMA and FLAC files. 
Support for new media formats- double layer DVDs, Blu-Ray and HD-DVDs.
Verifies data after burning- can simulate burning for error detection.
Dropbox – drag and drop files.
Support bootable CDs/DVDs/ISOs.
Free to download.
Other features- simple cover printing, lightScribe integration, command line version, supports most IDE,USB, Firewire and SCSI drives, online update and etc.