Finding it quite difficult to type in search terms using the small keypad when you are trying to do searches via your Nokia phone that runs on S60 platform? To make life easier, Google has introduced the latest version of the free Google Mobile App for Nokia S60 phones which allows users to "Google" search using speech besides words. Search via speech recognition is of course not something new and it has been available in other platforms such as iPhone, Windows phone and Blackberry. However Google has brought this voice search to another level by adding Mandarin Chinese into the list. Users who have Nokia Phones on S60 now can tell their phones in either English or Mandarin to do Google search. China being the world's most populous country, and Chinese Mandarin, being the world's most widely spoken language, definitely has something to do with it.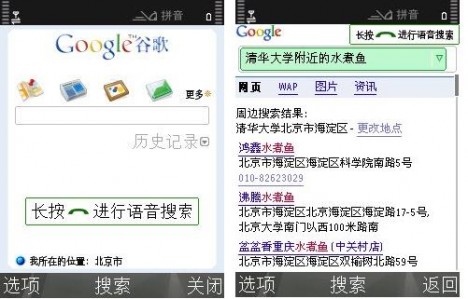 Once it is installed, this latest Google Mobile App will place a shortcut widget on the Nokia phones' home screen. This shortcut widget offers users an easier, faster and more straightforward way to start up speech search. Users can save the hassle of looking for Google Mobile App and running it. They can do instant search using speech to communicate with their Nokia handset and Google Mobile App will present the search results in the application itself. Users don't have to wait for a web browser to launch to get an answer.
Le's see the demo of this speech search feature:

The Google Mobile App supports Version 3 of Nokia S60 only. The more recent phones running version 5 (touch screen) are not yet supported. Users can download Google Mobile App for Nokia S60 by visiting http://m.google.com using the phone's browser.