Nowadays most of the PDA (Personal Digital Assistance) or Smartphone has already been equipped with GPS (Global Positioning System) feature that is quite useful in case you want to find your way to certain destinations that you are not familiar with. While you are able to locate your self by putting the longitude/latitude data in the map for easier interpretation, have you ever wonder that those data can actually be quite useful especially for others' location tracking? Here with the simple software utility named as LocateMe, it will help you to retrieve all these data and send to other recipients with simple setup.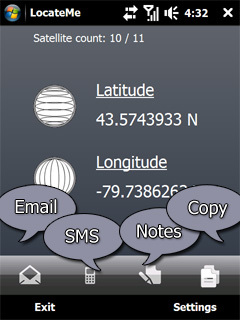 With the simple setup, users can choose to send the coordinates data either through SMS text messaging or email depending on own preference. Users just need to key in the respective recipient's contact number or email address and that is all, the software utility will do the rest. Besides, there is a quick way to put a note or remark on the coordinates other than enabling users to copy those data into clipboards to be used on other applications.
The software utility is not free, but at the cost of $9.95, it is quite affordable in view of the benefits that you can gain. Just imagine that now you can get your children location or even send the coordinates to rescue team when you are lost in the jungle as long as they have a GPS mobile with this tiny application installed and under cellular network coverage. Anyway, do get few days quick trial here to experience yourself at zero cost. LocateMe is compatible with Windows Mobile 5, 6 and 6.1 versions.