To make support easier for issue related to PC and device to end-users, Microsoft has released a beta troubleshooting program which is called as "Microsoft Fix it Center". The Microsoft Fix it Center has been designed to find and fix many common issues related to PC and device automatically. It able to solve the current issues and prevent new ones by proactively checking for known issues and installing updates. Besides, it helps to consolidate the many steps of diagnosing and repairing a problem into an automated tool.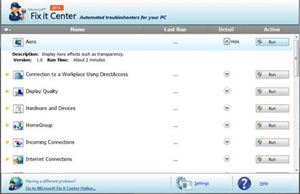 Features of the Microsoft Fix it Center includes:
Easy to Install and Run – Easy-to-use wizards will guide you through the set-up process and help you anytime you need support.
Automated – With automated troubleshooters, Fix it Center helps solve issues related to PC, scans the device to diagnose and repair problems, then gives user the option to "Find and fix" or to "Find and report.
Preventive Care – Find and fix issues before become real problems, helps keep the PC running smoothly and automatically downloading the latest solutions.
Personalized for the Device – By scanning the PC and devices to detect which hardware and software are using for getting more personalized support with Fix it Center.
Relevant Answers and Advice – Able to provide help, solutions and articles that related to the users need by keeps track of the user devices and settings.
Customized Settings – Able to allow user to choose the settings and level of automation, so Fix it Center fits how the users want manage their devices.
Manage Multiple Devices – Able to allow users to view multiple devices from one view and manage them remotely.
Recordkeeping – Able to record all the updates and repairs that are made on each device with the continuous report in Fix it Center.
Microsoft has been offering one-click Fix In solution through online support site for a while, and the Fix It Center is the app to bring the solutions readily available offline, though it works a bit differently with more features. Fix It Center is intended to make Windows easier than ever to support, through a set of tools to resolve the current problems automatically and prevent new problems from occurring by corrected issue once found before developing into real problems, with latest solutions automatically downloaded.
Mircosoft Fix it Center works well in most of the Windows Operating System such as Windows XP SP3, Windows XP Pro (64-bit) SP2, Windows Vista, Windows 7, Windows Server 2003 SP2, Windows Server 2008 and Windows Server 2008 R2. The Client for Microsoft Fix it Center Beta is now available as a free download from . Once completed download, just follow on-screen instructions to complete the installation.