Having budget concern to have face to face meeting with counterparts or customers due to current economic downturn situation? Now with this free software tool named as Mikogo, it enables a real time desktop sharing session with third party that can instantly share your contents remotely at zero cost.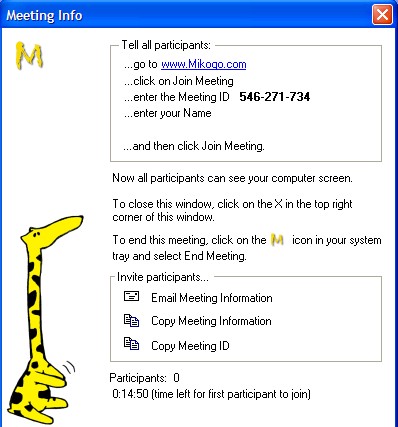 The software utility is very easy to be used. For the start, the initiator will need to spend few minutes to register for a free account by proving email address and name only at Mikogo. Once completed, an email will be sent to the registered email address with necessary logon password and users can start downloading the starter tool here. Good thing is, those third parties that you are going to invite are not required to register for an account but still able to enjoy this free service once they receive an invitation code from you.
Even though this is free, the tool is quite powerful with various features such as selective applications sharing, whiteboard, and ability to switch presenters, remote control by third party as well as recording that make the whole session more flexible and easier to manage. It is suitable for live meeting, material sharing, long distance training session and many more.
Mikogo is compatible with both Windows and Mac OS environment. Download and try it out yourself since it can be a very effective tool for cross sharing even in enterprise world.