Ever wonder how you can edit Mp3 files information? Sometimes the MP3 file information may not be accurate or for some reason if you would like to customize/edit it based on own preference, then this utility may able to help you. Named as MooO Mp3InfoEditor, it can view and edit Mp3 file information by just drag and drop the particular file into its Drop Box interface.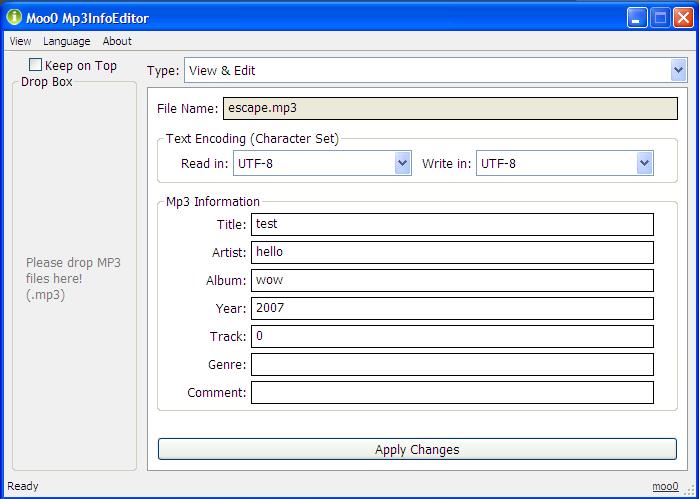 Once install and launch the utility, users will be brought to a simple interface. Basically there are two modes with the 'View & Edit' targeted for users that would like to edit a single Mp3 or another selection 'Alter Multiple Files at Once' that allows Mp3 files editing in bulk. After the desired mode was chosen and without further setup required, just browse to specific Mp3 files and with simple drag and drop capability, users can drag the desired Mp3 then drop it into dedicated Drop box and the default file information will be displayed and ready for edition. There are fields such as Title, Artist, Album, Year, Track, Genre and Comment on top of text encoding (character set) that users can define and just click on 'Apply Changes' and all the changes will become effective. Similar steps applied for bulk editing which is useful when there is a need to edit few Mp3 files simultaneously such as adding same album title for time saving.
Compatible with Windows 2003, XP, Vista and even Windows 7, users can get a free download here for immediate use.