If you own a small screen laptop with built in touch pad, scrolling a document may be challenging and occupy much of your valuable time. I have been searching around and managed to find this free software tool that may able to make the scrolling a great user experience. Named as MouseImp Pro Live, it works well in any Windows system regardless of what types of application software they are running. Now users no longer need to position the mouse cursor on top of the scroll bar in order to move the page up and down. Instead, user can just do a simple mouse click (default is right mouse click) follow by touch pad drag at any part of the Window screen to move to the right location.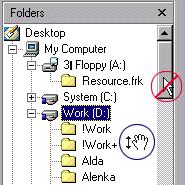 It is exactly the same way as what you can do with the hand tool (Under tool -> select & zoom -> hand tool) function in PDF format that you can hold down the mouse click and scroll in whichever directions for fast document readings. Depending on own preference, user can select to use 'classic' or 'toggle' to control the switching between DirectScroll and normal mode. In 'classic' setting, user needs to hold down the mouse click while browsing on the touchpad. Whereas in 'toggle' mode, the setting is sticky enough that user just need to click once to enable the function or disable it. That is not all, in case you think the scrolling is too sensitive with regards to your finger movement on the touchpad, you can try to play around with 'Scrolling speed' or 'Slow down margin' settings as it is configurable in percentage to best suit one's system configuration. Besides DirectScroll, MouseImp also features another useful AutoShrink function that able to remove toolbars, only leaving caption bars for space constraint windows workspace to simplify display showing on the PC screen. The toolbars is dynamically expandable by just pointing the cursor on it.
I personally feel that the DirectScroll capability will able to speed up document browsing especially in the small size screen (MID) Mobile Internet Device and even mini laptop or UMPC. The software utility is compatible with all Windows OS. More importantly, it is free and tiny enough, only consumes around 450kB to be installed into any PC system for more effective daily work. If you think this suits you, go ahead and download at MouseImp for quick trial today.