The leading provider of popular cloud entertainment service, mSpot has brought its popular cloud music streaming service to Apple iPhone. The mSpot music cloud service lets users quickly upload their favorite music to mSpot Cloud, then they're allowed to listen to the music via iPhone, Windows/Mac PC and Internet TV, offering an simplest way to get their music collection anytime, anywhere.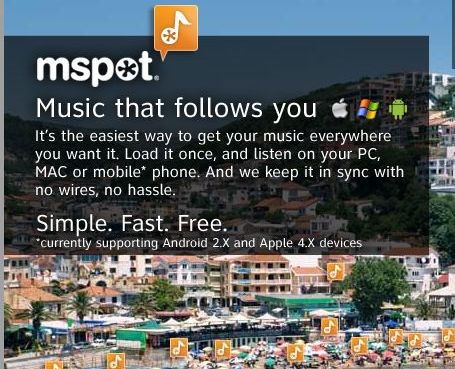 Features Of mSpot Music Service (iPhone Version):
Easy, quick and free way to access music collections from iPhone, PC/Mac and Internet TV
Smartly syncs music from the cloud to iPhone, without wires and hassle
Exports playlist, metadata, cover art and more from iTunes automatically
Continuous playback, even during spotty or non-existent cellular coverage
Airplane mode to play cached songs on iPhone with no network connectivity
'Streaming only' option for users who want to save all the storage on their
mobile for other media
Live Lyrics read the words to select favorite songs as users play on mobile
"We're giving you the 'next generation' iTunes experience. By putting your music in the cloud, you can access it anytime and anywhere you go, and on different devices, such as your iPhone, iPad, Mac/PC or Internet TV," said Daren Tsui, CEO of mSpot. "Listening to your music on multiple devices is now truly easy; it doesn't require manual syncing and troublesome cords."
The cool mSpot Music Cloud app is now available at www.mspot.com for PC and Mac, and in the Apple App Store for iOS 4.0+ devices. mSpot offers free 2GB cloud storage that able to hold up to 1600 songs, and you also can purchase an additional 40GB cloud storage with just $3.99 a month, if you feel that 2GB storage is never good enough.