Many users like to use the Google Image Search service offered by Google to search for image content from the web. Google Image Search does help a lot in image searching. Having said that, this image search service is not so user friendly when it comes to image downloading. The search result is presented in thumbnail view and users need a few more steps before they can download the full-size original image. To keep the download process simple and straightforward, the free and portable application, Multi Image Downloader, is worthwhile exploring.

Multi Image Downloader is a free Windows application which can be downloaded via the link here. This image downloading tool makes use of the search result from Google Image Search service and assists users to download the image contents from the web via its simple and user friendly interface. Users, however, can't do direct searching via this tool. Users need to copy the URL address from Google Image Search service and paste it to this application. Users can thence set the boundary for the search results, e.g. the number of pages of search result, file types and so on. The images will thence be downloaded to the specific location determined by the users. The downloading time depends on the speed of the internet connection.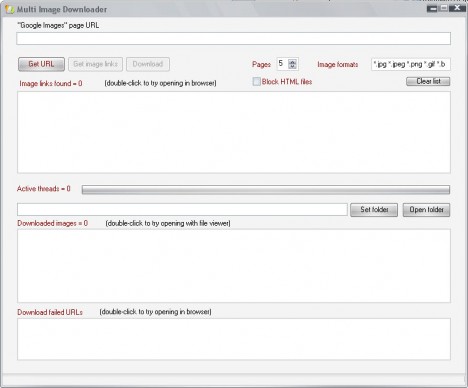 Since Multi Image Downloader is a standalone application, users can grab this application and bring it along with their pen drive or portable hard disc. It is Windows compatible and supports Windows XP/Vista. The setback of this application is its lack of filtering and which will cause users to download duplicate images.