The latest version of Firefox 3.0.7 web browser is now available for download. According to the developers that they have fixes a number of stability and security issues found in version 3.0.6. Beside that, Mozilla also said that the next major release will be known as Firefox 3.5, rather than 3.1 as the original planned.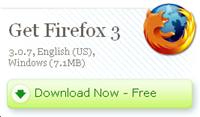 The Firefox 3.0.7 fixes several issues found in Firefox 3.0.6 including:
Fixed several security issues.
Fixed several stability issues.
Official releases for the Estonian, Kannada, and Telugu languages are now available.
Items in the "File" menu show as inactive after using the "Print" item from that menu – switching to a new tab restores them. This issue has been fixed.
For some users, cookies would appear to go "missing" after a few days.
Mac users of the Flashblock add-on, experienced an issue where sound from the Flash plug-in would continue to play for a short time after closing a tab or window .
Fixed several issues related to accessibility features.
The users of Firefox is adviced to update and click here to start download.
Update: Firefox 3.0.8