Microsoft has released its beta version of Windows Live Wave 3 suite of products and now is available to download on download.live.com. This includes Windows Live Movie Maker, Messenger v9, Windows Live Writer, Windows Live Mail, Mail with calendar synchronization, Photo Gallery, Family Safety and Outlook Connector.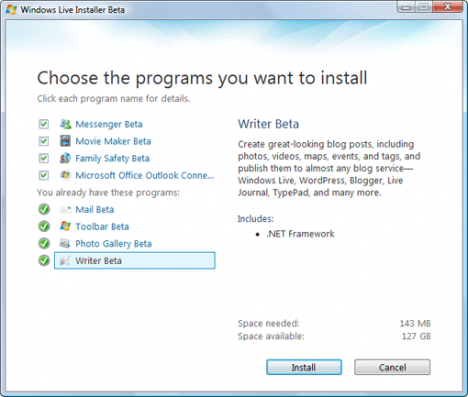 Windows Live Movie Maker : Is the new service offers for Windows Live which able to share photo and movies online. The user can easily convert the photo and video into movies or slideshows. So that it can be shared among thier family or friends through the web, CD/DVD, TV and etc.
Windows Live Messenger : Offers easier ways to chat and keep up with user network. It allow group conversation for up to 20 people by creating private groups in Messenger and sharing photo easily while chatting by simple drag and drop to show, view and comment on the photo in real time enviroment.
Windows Live Writer: Offers enhanced photo, video and image editing or publishing. It also able to publish the video directly from desktop to Soapbox on MSN Video and YouTube which make it easier to publish photos and video to a blog.
Windows Live Mail: Offers calendar and synchronize features which able to synchronize with Windows Live Calendar on the Web.
Windows Live Photo Gallery: Offers face detection and people tagging(like Picasa). It able to organize the photo quickly by automatically detect faces and allow user  to tag their contacts.
Windows Live Family Safety: An Improved and simplified sign up process which make it easier to configure the service and manage your kids' activity online.
Windows Live Wave 3 beta programs are available in multiple languages such as English, Chinese, Italian, Japanese, Korean, German, French and etc.
User can grab the setup installer for Windows Live Wave 3 beta programs from download.live.com or using the .