Nokia has announced the release of its latest version Ovi Maps 3.0 software. The software has been designed specifically for use in its GPS-enabled phones such as the phones running on S60 3rd Edition Feature Pack 1, Pack 2 and S60 5th Edition. The latest Nokia Ovi Mpas has been enhanced with high resolution satellite and terrain maps in both 2D and 3D views as well as 3D landmarks for more than 200 large cities.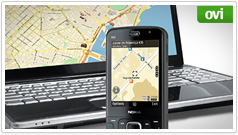 The users able to take maps worldwide, explore the places nearby and direct them to their destination turn-by-turn whether on the foot or in the car. In addition, it also integrated with a weather service which provides users with 24 hours or five days forecast for particular place and traffic and safety service which provide real-time information, automatic re-routing and advance warning of fixed safety cameras.
Ovi Maps is available for download at Nokia Site.