As long as you are an internet user, the chances of exposing yourself to the threat of malicious software or crimeware are always there. You can set up your firewall and install antivirus software applications to protect your computer system. However, there are occasions you might bump into some "hardcore" malicious software which has been deeply embedded into your system and probably exhaust all your resources to get rid of it. Some of these malicious programs play all sorts of tricks to confuse users, for instance creating false alert messages to scare users that their computer is infected by viruses and leading them to download recommended removal tools to fix the security threat, etc. If you face this security threat problem and have exhausted all available options, probably one last but not least resort you can try is the Norton Power Eraser.

Norton Power Eraser is a free and portable security tool that applies a more aggressive method to help users to detect those hardcore security threats and eliminate them accordingly. Since it is portable, Norton Power Eraser does not require installation and it is currently offered in public beta version. To use this security tool, users just need to download the application via the link here and save the file accordingly. This security program features a simple interface on startup. Users can click SCAN button to scan the hard disc or click REVIEW to review past repair sessions and undo them. Once the scanning is completed, the scan result will be shown and users will be notified of the possible security risks.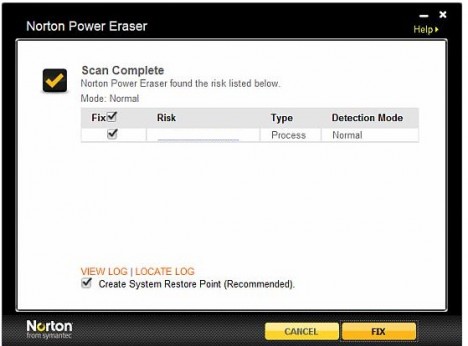 Users can choose whether to fix the security threats. But since the Norton Power Eraser applies rather aggressive methods to detect the security threats, users might face the risk of the security tool slecting some legitimate programs for removal. To avoid unnecessary problems, users are reminded by Norton to make sufficient checking and research to make sure the detected threats are indeed crimeware before fixing them.