From Office 2010 version, all copies of Office 2010 installed has to be activated, regardless of whether it's purchased through retail, OEM or volume licensing channels. Previously, volume licensing (VL) version of Office productivity software does not require activation, allowing the copy of Office to be activated and used once a valid product key is entered.

To make it easy for system administrators of corporations and companies to deploy Office 2010, Microsoft allows volume licensing customers to activate Office 2010 via MAK (Multiple Activation Key), a Microsoft hosted activation method, or KMS (Key Management Service), a local self-hosted activation method.
To use KMS activation for volume licensing editions of Office 2010 suites or applications, Project 2010 or Visio 2010, an Office 2010 KMS host is required, which can be built from existing KMS host for Windows 7. To make activation even easier, all volume editions of Office 2010 client products are pre-installed with a KMS client key so that volume licensing customers does not need to install a product key on installed VLK copy of Office 2010, Project 2010 and Visio 2010.
However, KMS host license files are required to be installed onto the KMS host so that the KMS host service can recognize Office 2010 KMS host keys. While installing the KMS host license pack, the executable will also prompt user to enter Office 2010 KMS host key and activate the host key. Once KMS host is activated for Office 2010, it can respond to activation request from Office 2010 clients. When Office 2010 volume edition client products are installed, they will automatically search for a KMS host on your organization's DNS server for activation.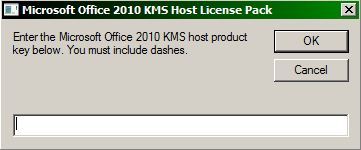 Download the Microsoft Office 2010 KMS Host License Pack from Microsoft Download Center, or via direct download link: KeyManagementServiceHost.exe