Microsoft has many channels to distribute and release the Windows Vista Service Pack 1. One of the distribution channels is OEM partners, typically made up of companies like HP, IBM, Dell, Sony, Acer, ASUS, Lenovo and other system builders. These PC hardware manufacturers produces desktop and notebook (laptop) computers that pre-factory installed as Vista system with OEM product key.

OEM partners get official and final version of Vista SP1 and OPK (OEM Preinstallation Kit) much earlier from Microsoft so that the new version of Vista can be incorporated into OEM copies of Vista sold with new sytem. While normal consumer end users have to wait a little bit longer till March to have access to downloadable standalone SP1 update package, which can also be used to install while offline.
Now the .IMG image files of Vista's Service Pack 1 from OEM Partner Center has been leaked. In fact, it's possible enroll as a registered member of Microsoft Partner Sites and download the Vista SP1 from the Microsoft OEM server.
For those who unable or don't want to register, here's the description for Vista SP1 from OEM Partner Site: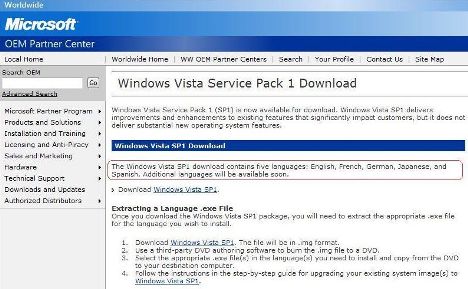 Windows Vista Service Pack 1 (SP1) is now available for download. Windows Vista SP1 will deliver improvements and enhancements to existing features that significantly impact customers, but it does not deliver substantial new operating system features.

Windows Vista SP1 Download

The Windows Vista SP1 download contains five languages: English, French, German, Japanese, and Spanish. Additional languages will be available soon.

Download Windows Vista SP1.

Extracting a Language .exe File

Once you download the Windows Vista SP1 package, you will need to extract the appropriate .exe file for the language you wish to install.

Download Windows Vista SP1. The file will be in .img format.
Use a third party DVD authoring software to burn the .img file to a DVD.
Select the appropriate .exe file(s) in the language(s) you need to install and copy from the DVD to your destination computer.
Follow the instructions in the step-by-step guide for upgrading your existing system image(s) to Windows Vista SP1.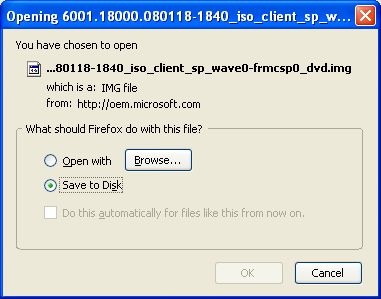 For non-registered users who can't download directly from Microsoft server, here's the torrents to download via P2P BitTorrent (BT) network sharing client or direct HTTP download links. Two .img image files available – Wave 0 is disk image containing 1.13 GB of both 32-bit and 64-bit version of Vista SP1 for English, french, German, Spanish and Japanese languages, while Wave 1 size is 1.38 GB with all 36 language packs for both x86 and x64. Both images contain Windows6.0-KB936330-X86.exe and Windows6.0-KB936330-X64.exe, with different in size. Around 450 (434) MB and 550 (543) MB for x86 service pack.
Update: Official Windows Vista SP1 5 languages version download links and official Windows Vista SP1 all languages version download links.
Download 6001.18000.080118-1840_iso_client_sp_wave0-frmcsp0_dvd.img (Vista SP1 OEM Wave 0)
via HTTP Download Link
via Torrent (6001.18000.080118-1840_iso_client_sp_wave0-frmcsp0_dvd.img.torrent)
Download 6001.18000.080118-1840_iso_client_sp_wave1-frmcsp0_dvd.img (Vista SP1 OEM Wave 1)
via HTTP Download Link
via Torrent (MICROSOFT.WINDOWS.VISTA.SERVICE.PACK.1.OEM.WAVE.1.4028861.TPB.torrent)
Note: No longer required as official download links have been released to download high speed from Microsoft Download Center.
After downloading, use image manipulation software such as PowerISO and ISOBuster to extract the .exe service pack setup installer.