Opera development team has released the final version of Opera 10.60 web browser for Windows, Mac OS X, Linux and FreeBSD operating system platform. The Opera 10.60 is claimed to be the faster web browser on earth, with its further-optimized JavaScript engine which is 50% faster than .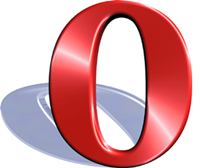 Besides speed improvement, the final version of Opera 10.60 has been enhanced for supports advanced Web standards such as HTML5 and WebM video. In addition, it also can prompt the user to share their location that making geolocation-supporting websites more useful and supports search suggestion for selected providers to help user to the result more easily.
Top features of the Opera 10.60 includes:
Integrated Web Search – Search the Web directly from the address field by simply typing in search term.
Opera Link – Keep the data backed up and synchronized with phones and other computers.
Opera Turbo – Speed up browsing on slow connections by compressing webpages before downloading them.
Sophisticated tabs- See open webpages easily with visual tabs or use private tabs to protect privacy.
Add-ons – Enhance browser functionality with Opera Widgets and Opera Unite or select a new skin.
Mouse gesture – Perform common browser actions easily with quick movements of mouse.
Speed dial – Access favorite webpages instantly with a single click.
Zoom – View webpages at a comfortable size with a best-in-class zoom.
Content blocking – Control view of webpages by easily removing annoying images, animations and content.
More information and changelog at the .
Download Opera 10.60 for Windows –
Download Opera 10.60 for Mac OS X – Opera_10.60_Setup.dmg
Opera 10.60 for Linux x86-64, Linux PowerPC, Linux i386, FreeBSD i386 and FreeBSD AMD64 is also available in Debian package, RPM package tar.gz or tar.bz2 from opera.com.
Update: