Opera Software has released Opera Mini 5 beta which is the latest update to its mobile web browser. According to the company, Opera Mini is claims to be the world's most popular web browser for mobile devices. Opera Mini 5 has been incorporated with several new features for improving the mobile browsing experience.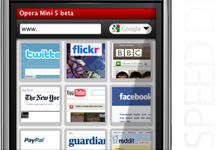 Opera Mini 5 beta includes the following features:
Tabbed browsing – This desktop favorite is now available for Opera Mini. Tabs allow the users to browse several sites simultaneously. This helps users easily jump from one page to another with the click of a tab.
Sleek design – Opera Mini 5 features a new, intuitive and advanced look and feel.
Touchscreen or keypad browsing – Opera Mini caters to the needs of mobile phone, offering optimal browsing for both touchscreen and keypad-based phones.
Speed Dial – Opera's Speed Dial will greet the users with their pre-selected Internet favorites upon loading the browser.
Password manager – Opera Mini is a virtual memory bank, securely saving all passwords for e-mail, social-networking sites, online banking and more.
"In our own research, we have learned that the number-one reason people use Opera Mini is because it is easy — easy to use the Web you know. The idea of navigating the vastness of the Web from such a small screen can be a daunting leap, which is why we have long committed to make the browsing experience you are familiar with from your PC, easy to do on your mobile phone," said by Jon von Tetzchner, CEO, Opera Software. "With new, sleek navigation buttons, tabbed browsing and Speed Dial bookmarks, you are never more than a click away from where you want to go on the Web."
The Opera Mini beta is available for free download from desktop or visting m.opera.com/next by using mobile phone default Web browser.
Update: