In effort to help teens to learn how to stay safe online, Microsoft has teamed up with security expert and author, Linda McCarthy to give away "Own Your Space – Keep Yourself and Your Stuff Safe Online" digital e-book in PDF and XPS format. The "Own Your Space" e-book is aimed to every teen who takes the time to learn about security and how to stay safe and be smart online.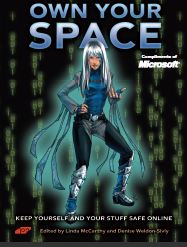 Chapters in the "Own Your Space" e-book includes:
Chapter 1: Protect Your Turf.
Chapter 2: Know Your Villains.
Chapter 3: Nasty "ware".
Chapter 4: Hackers and Crackers.
Chapter 5: Taking SPAM Off the Menu.
Chapter 6: Cyberbullies.
Chapter 7: Phishing for Dollars.
Chapter 8: Safe Cyber Shopping.
Chapter 9: Browsers Bite Back.
Chapter 10: Private Blogs and Public Places.
Chapter 11: Going Social.
Chapter 12: Friends, Creeps and Pirates.
Chapter 13: Any Port in a Storm.
Chapter 14: Look Pa, No Strings!.
Chapter 15: Getting Help.
Chapter 16: Tweaks.
The book normally costs $19.99 to purchase. The "Own Your Space" e-book is available as a free download. from Microsoft in PDF or XPS format:
XPS format (All Chapters):
PDF format (All Chapters):
Besides that, chapter by chapter are also available for download from .