Windows 7 users may be aware that the AutoPlay feature in Win 7 no longer supports the AutoRun function for non-optical removable media. This is to prevent malicious programs from taking advantage of the AutoRun vulnerability to spread dangerous worms or viruses. For Windows only, Panda USB Vaccine is a free utility offered by Panda Security Research for users who have security concerns over malware infections due to the Autorun feature in their OS.

Compatible with Windows 2k, Windows XP and Windows Vista, Panda USB Vaccine offers users two different types of vaccinations: Computer Vaccination and USB Drive Vaccination. Vaccine for computers will prevent any AutoRun file from running, regardless of whether the device (memory stick, CD, etc.) is infected or not. Vaccine for USB devices is a 'vaccine' for removable USB devices, preventing the AutoRun file from becoming a source of infection. The tool disables this file so it cannot be read, modified or replaced by malicious code.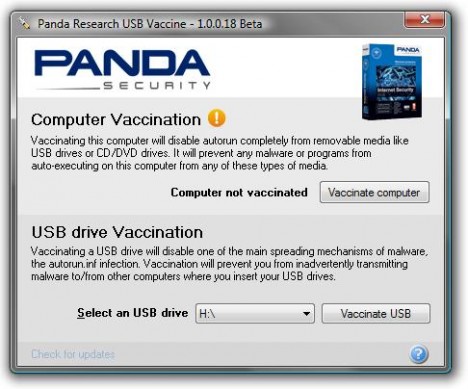 Panda USB Vaccine is free and user friendly. With some simple setting, users can increase another layer of protection against potential infections from removable drives and devices. Users can download Panda USB Vaccine via the link here.