Database administrators are clearly aware that backup and recovery are two important elements to ensure important databases are well taken care of to avoid any data loss, affected revenue or triggering of customers' complaints when a database crashes. Hence, a good backup and recovery tool is always a good companion to ensure the database is properly protected from any disaster. Paragon software has lately released its latest Paragon Backup & Recovery 10.1 Free Edition for non-commercial users to safeguard against the possibility of data loss.

Compatible with Windows Vista, Windows Me, Windows 7, Windows XP, Windows 2000, the new Paragon Backup & Recovery 10.1 Free Edition offers both 32-bit version (for 32 bit OS) and 64-bit version (for 64-bit) OS. The Paragon Backup & Recovery application is both install and user-friendly. The new backup and recovery application has added a few new features as listed below:
Cyclic Backup – complete infrastructure for establishing a self-acting data protection system, fully compliant with the set-and-forget backup policy. Whenever Windows fails, you can get it back on track in minutes.
Support for the latest Windows 7 (both 32- and 64-bit), support for all existing backup techniques and of all the latest hardware as well as hard disk partitioning schemes.
Backup and restore not only single GPT volumes but entire disks, including the option of resize during the restore operation.
Live imaging for a Win2K+ system with two snapshot technologies onboard, i.e. MS Volume Shadow Copy Service and Paragon Hot Processing.
Zero-install accomplishment of any operation with multi-platform bootable recovery media which you can build on a CD/DVD/Blu-ray disc or a thumb drive.
Fast restore on a granular level without the need to restore the whole image.
Additional Features:
Advanced system of filters to automate the process of building up contents of the future backup image by excluding irrelevant data such as movies, music, etc.
Choose any backup destination: Local mounted/un-mounted partitions, external storage, CD/DVD/Blu-ray discs, network shares and the secured hidden partition (Backup Capsule)
Three special boot-up modes for restoring Windows 64-bit operating systems
Encryption and password protection for backups to guarantee security for your confidential data
Partitioning tools such as: partition creation, deletion, formatting to different file systems, testing hard disk surfaces and checking file systems for errors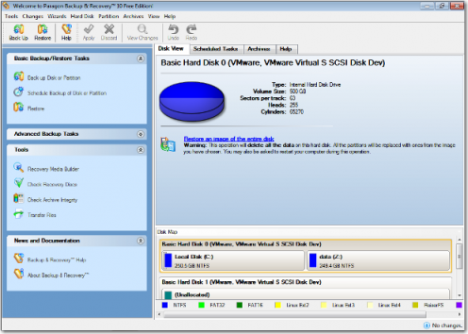 Screenshot
Users can download the latest Paragon Backup & Recovery 10.1 Free Edition via the link here. Paragon does offer another pay version with more features and functions added via its Backup and Recovery 10 Suite (a pay version) for professional users.