If you need to frequently access a few Windows applications and launch it in easier way, then this software utility may help you. Named as PassMark Central Control, it is a utility that enable you to configure application access buttons at a single interface so that you can launch the applications in much faster way. Instead if going to the specific directory to launch the application, you can now launch it from this utility interface directly.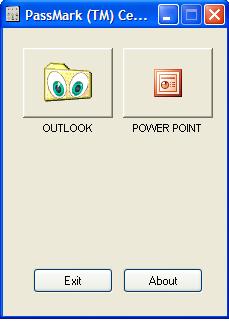 PassMark Central Control is freeware that allows you to configure up to 50 buttons on the interface with auto resize capability to display all the pre-configured buttons nicely. To configure the application access button, you must first edit a text file called "centralcontrol.cfg" and this file must be resided under the same folder as PassMark Central Control executable file. For each of the button to be appeared in the interface, it must contains 5 lines of text configured in "centralcontrol.cfg" as below:
Line 1: Comment of the button. It must start with a semicolon and you can put any text as you like after the semicolon. It is compulsory to add the comment as line 1.
Line 2: The name of the icon image which appears on the button. You can choose Central Control built in image or the default image from the executable file. Listed below are the built in image names. To display the default image from the executable file, the syntax is EXTRACT.
OSCHECK
KEYBOARDTEST
BURNINTEST
PERFORMANCETEST
DOCUMENT
BATTERYMON
MODEMTEST
MONITORTEST
SOUNDCHECK
REBOOTER
CDMAKER
GIRL
DEFAULT
COMMAND
DISKCHECKUP
SLEEPER
TESTLOG
WIRELESSMON
USB2TEST
Line 3: The full path of the executable file.
Line 4: Parameter that need to be passed to the application. Put NO PARAMETERS if the application doesn't required any argument to pass in.
Line 5: The caption of the button.
Below is an example of the configuration file:
;============= Button 1 ================
OSCHECK
C:\Program Files\Microsoft Office\OFFICE11\OUTLOOK.EXE
NO PARAMETERS
OUTLOOK
;============= Button 2 ================
EXTRACT
C:\Program Files\Microsoft Office\OFFICE11\POWERPNT.EXE
NO PARAMETERS
POWER POINT
You can download the zip file (less than 600kB) here and it consists of two files, namely CenCtrl.exe and Centralcontrol.cfg. Once you configure the cfg file by following the above steps, just click on the exe file to execute it. Hopefully this simple utility will able to save your time to be spent on other value added tasks.