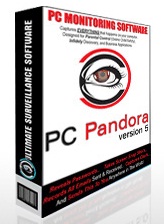 Ever wonder what your kids are doing with their computer after locking themselves in the bedroom for hours? Or you are suspicious your colleagues are sabotaging you by meddling with your computer? A computer monitoring software that can record all activities on a computer is perhaps something that can allay your concerns. PC Pandora is a powerful computer monitoring software that will record screenshots of everything that happens on the computer. It will present the report in both text-based files and easy-to-read charts. All instant messenger chats, emails sent and received, websites visited, peer-2-peer files shared, keystrokes logged, programs accessed, Internet search queries and more are recorded for users to review.

You don't even have to spend money to get a copy of this powerful computer monitoring software. According to the software developer blog, Pandora Corp, is giving away 50,000 units of free PC Pandora 6.0 to users. The giveaway campaign begins at 12:01 AM (Pacific Standard Time) on Saturday, June 26th, and continues through till midnight on Wednesday, June 30th.
Users especially parents who worry about their kids talking to strangers on social networks, creating multiple social network profiles, downloading illegal music and movies, falling victim to a cyberbully, etc and intend to get a copy of this software application can visit http://www.pcpandora.com/order/. Select PC Pandora Pro but unselect and uncheck the LIVE! Service – FREE for the first 14 days option. Then, enter FREESUMMER2010 as the Promo Code and click on Proceed to checkout using ClickBank payment processor to get your copy of PC Pandora for free and download the software FOC. After submitting order form, download and activation information will be given, and registrant can use it to all features of PC Pandora.
Download setup installer for PC Pandora: PCPandoraSetup.exe