On some occasions you might need to combine a few pdf files into one big file for certain reasons. For instance, you have received a large PDF file that has been broken up into smaller files and sent to you. You might need to merge them into one for easy filing or other purposes. In another scenario, your project team members have forwarded their sections of a report and you need to combine them for submission. Adobe Pro and some other pay pdf files binder applications do offer this service but of course there is cost incurred. To get things done without costing you anything, PDFBinder, a free and simple tool, is perhaps worthwhile exploring.

PDFBinder is an Open Source tool compatible with Windows OS that enables users to merge any number of PDF documents into one, without having to resort to slow, non-user-friendly, expensive software. With this simple tool, users can easily drag and drop to add the smaller pdf files into the program. Users can also arrange and sort the files in accordance to their sequence. Once users are satisfied, a single click to the "Bind" button will get the files merger done.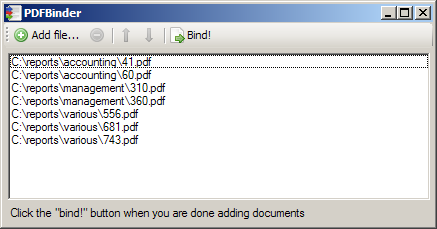 Download PDFBinder via the link here.