When talking about Windows printer which is commonly used by home user, it doesn't has the photocopy feature which is offered by Xerox, that's why Windows scanner becomes popular and common nowadays as it fulfills the need of home user to photocopy any document. For instance, scan your identity card, save it as soft copy then print it out and submit for credit card application. It involves few steps in order to photocopy your identify card. How to simplify these steps? With Photocopier ver 3.03, it has combined both scanning and printing into one step so that you can photocopy your document with just a click.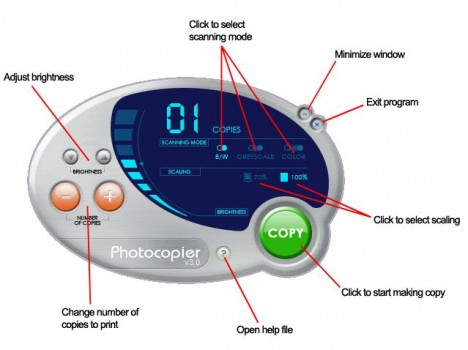 Photocopier is freeware. It is simple and easy to use. Once you get it installed at your computer, it will detect your default printer and scanner automatically. Place a document into your scanner, launch Photocopier and click Copy button. The document will be scanned and sent to printer to be printed out in few seconds. All basic features you can find it at main window are:
i) Change the number of copies to print
ii) Select scaling
iii) Scanning mode
iv) Brightness adjustment
Photocopier is compatible to run in Windows 95/98/ME/NT/2000/XP/Vista. The pre-requisite is you must have scanner compatible with Twain standard (most scanners are Twain standard) and printer must be installed in Windows. Occupying only around 1.11MB of your hard disk space, it is worth to be installed for daily use at no cost. Just click here to download Photocopier ver 3.03.