You could have taken thousands of photos from a fun-filled vacation trip, a special party, an adventurous exploration, or even of your newborn. Why only store these valuable photos in your computer since you have an excellent way to share and display them with PhotoJoy, a photo gallery application?

PhotoJoy is a free application that helps to organize your precious photos from your computer and showcase them in various interesting ways. The photo gallery displays the photos in animated 3D photo screensavers, wallpaper collages or animated desktop widgets. It comes with a few collage, widget, and screensaver templates for users to display the photos attractively and creatively. If users are not satisfied with these templates, they can always browse through the internet to get other collages, widgets, and screensaver formats. PhotoJoy features a simple interface which allows users to do the setting, e.g. select photos, set timer, etc with just a few clicks.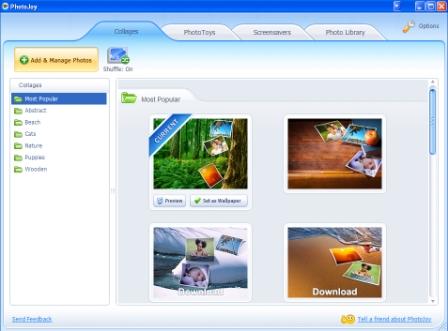 PhotoJoy Screenshot
Besides using the photos stored in the computer as wallpaper or screensaver, users can also import photos from their Flickr account via the come along Web Streaming feature. This Web Streaming features automatically updates users' Photo collection within PhotoJoy as new images are available. When this feature is turned on, it will recognize the images that have been frequently used within users' PhotoJoy. It then connects to Flickr to download new images that match user's interests. These photos are then added to users'Flickr collections within their PhotoJoy.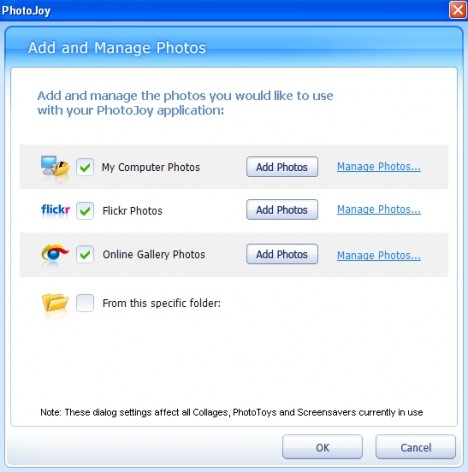 Users can watch the application demo here:

Download PhotoJoy from photojoy.com.