If you love sending SMS more than voice call, then this tiny software utility will help you. Named as PowerSMS, it is a lightweight Windows Mobile application that offers 6 different powerful text messaging features to help users handling daily SMS activity in more efficient way.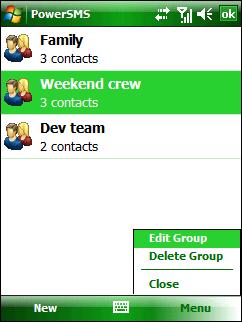 Although the new application is still in beta version, but it seems to work great as of now. I personally found that the Group Messaging feature to be very helpful in the event when user needs to send an invitation or similar SMS to a group of friends or family members simultaneously. Besides, there is a Schedule SMS feature that allows user to schedule to send a SMS at a predefined time. It could be a simple reminder to own self or a birthday greeting to friends at any time. That is not all, an Auto reply feature will be able to automatically reply to a missed call once it is enabled. Meanwhile, there is a Cool Stats feature that can summarize and show interesting information such as Average message being received per day, most active SMS day of the week, most active contact and etc. Last but not least, user can do the SMS backup to be archived in either .CSV or .XML format for later retrieval or to be transfered to other mobile devices during a phone upgrade.
If you think this application suits your need, just go to download the cab file at PowerSMS at no cost.